I wrote this story for the Orange County Register. It was published on Sept. 23, 1992
Immigrants say US Border Patrol agents regularly beat them, kick them and sometimes shoot them, but agents are rarely disciplined and critics say most complaints vanish into a web of secrecy.
Newly released government documents show that at least 53 excessive-force complaints were made against San Diego-area agents from August 1990 to April 1992.
The complaints are among hundreds made nationwide, but immigrant advocates say the Border Patrol does little about it.
"We get cynical. When someone asks what's going on, we say nothing _ nothing but the regular beatings," said Maria Jimenez, head of American Friends Service Committee's border violence project.
Border Patrol spokesman Steve Kean said most allegations of excessive force are unfounded. And he blamed reports of misconduct on a "handful" of officers.
Documents obtained by The Orange County Register through the Freedom of Information Act show that during a 21-month period ending in April, San Diego-area agents were accused of a range of misdeeds, from fondling a teen-age girl and strip-searching a woman in public to stealing money and recklessly firing weapons.
The Border Patrol refused to release 227 pages of documents involving allegations of misconduct, saying disclosure would constitute invasion of privacy and disclosure of confidential sources. Many of the released documents do not show the cases' outcomes.
The complaints come at a time when agents are under fire for their high-speed pursuits, which have ended in at least 35 deaths statewide in the past 10 years.
Kean said the criticism is unfair. Immigrants crossing the border illegally often try to escape and agents must use force to capture them, he said. Sometimes that means tackling them. And if they fight back, agents resort to punching them, knocking them down or grabbing a sensitive body part and squeezing _ a technique known as "pain compliance."
Kean said immigrants misinterpret that and think they're being abused. But agents are only doing their job, he said.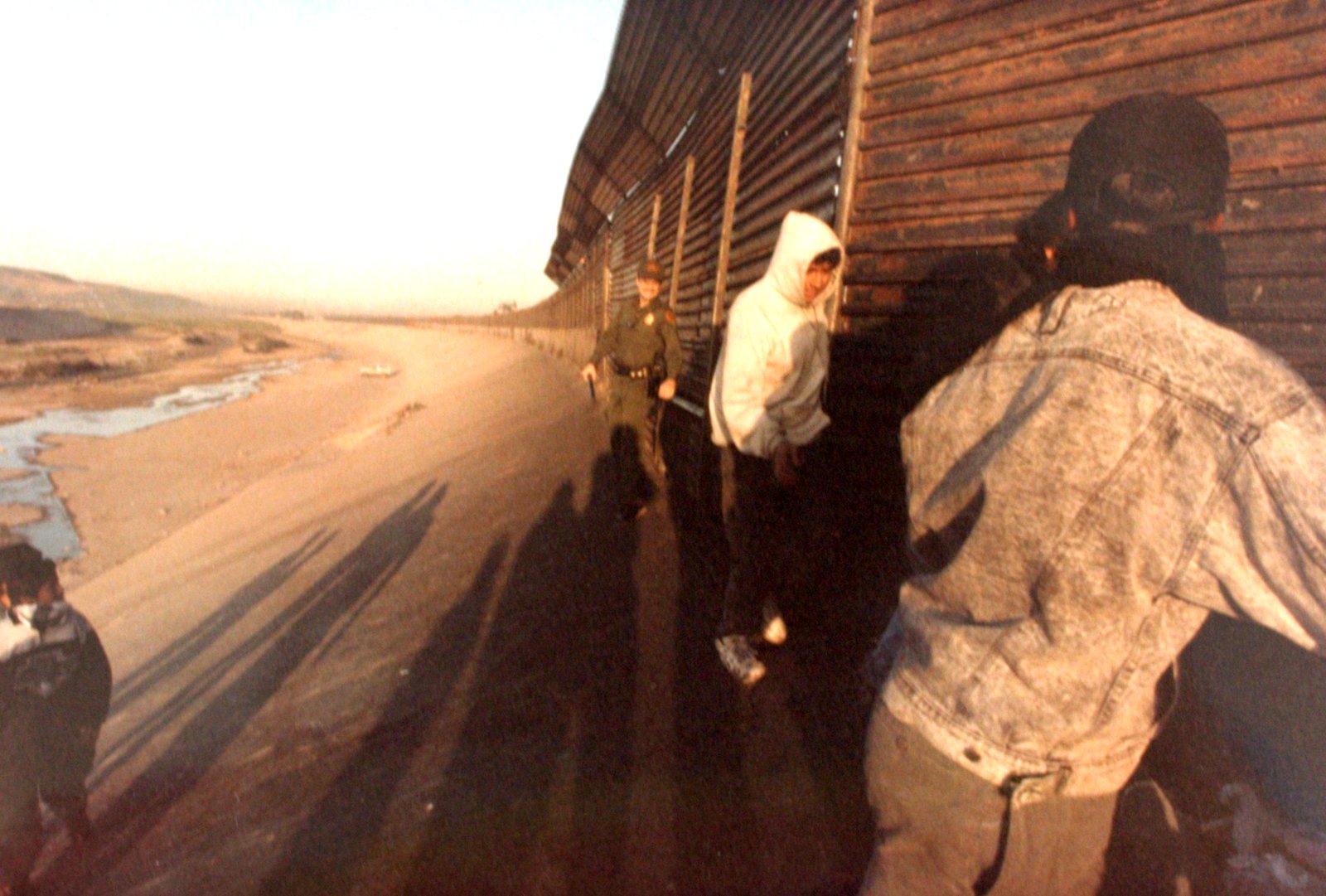 Immigrant-rights advocates see things differently.
"What it comes down to is a total dehumanization of the immigrants who are here looking for work, not trouble," said Roberto Martinez, head of the American Friends border project in San Diego.
The committee, a Quaker organization, has recorded 1,274 incidents of physical and verbal abuse along the US-Mexico border from May 1989 to May 1991. Martinez displayed a stack of photos of people with cracked skulls, broken ribs, gaping wounds, smashed noses, black eyes and broken legs.
Kean said relatively few complaints are filed considering the huge number of immigrants arrested every year.
San Diego is the nation's hot spot for illegal immigration. About 900 agents are stationed in the region, patrolling a 66-mile border stretch. They arrest a half-million illegal immigrants per year. They say at least twice that many get away.
Immigrants' complaints of excessive force vary. Among them:
On June 8, 1991, a pregnant immigrant in Chula Vista complained that an agent beat her with a nightstick and kicked her in the stomach, causing a miscarriage.
On June 23, 1991, an immigrant in San Clemente said an agent beat him up. The agent admitted punching the immigrant four times in the face to subdue the man. Later the agent was treated for bruised knuckles.
On March 27, 1992, an immigrant in Imperial Beach complained that a Border Patrol horse stepped on his back and that an agent kicked him. Agents denied it.
On March 29, 1992, a 26-year-old immigrant in Imperial Beach complained that an agent kicked him in the groin. The agent said that during a scuffle he inadvertently landed on the man's groin with his right foot while the man was on the ground.
Agents accused of beating immigrants are rarely disciplined. Border agents say that's because the complaints are unfounded. Immigrant advocates say it's because the review system doesn't work.
Allegations of excessive force are reviewed by an independent government agency, the Office of the Inspector General. But immigrants rarely file complaints because they don't know how the process works, Jimenez said.
Others never file complaints because they worry that police will torture them, which human-rights workers say is a common practice in parts of Mexico.
Jimenez said many abuse cases never reach the inspector general because border agents' own investigations of wrongdoing are superficial and one-sided.
The process is also secretive. The Border Patrol refuses to name agents accused of misdeeds unless criminal charges are filed.
The Immigration and Naturalization Service, which oversees the Border Patrol, contends that the policy protects agents from harassment and is legal under privacy laws. Immigrant advocates say it shows the agency's lack of accountability.
"It's absolutely wrong," Jimenez said. "We don't allow our local police officers to get away with that. Why should we allow our federal agents to do it?"
American Friends and other groups have such little faith in the complaint-review process that in August they sought help from the Organization of American States, an international organization with members throughout the Western Hemisphere. The goal: to persuade the OAS to pressure the United States to reform its border policies. The OAS is reviewing the request.
One problem, say immigrant advocates, is that the victims of border-agent abuse have little or no political clout.
But not all victims are immigrants. Brian Wolfe, 43, a painter, said he was returning from a job in Anaheim Hills in December 1989 when border agents stopped him, hit him with a flashlight and knocked him down.
Wolfe, of Fallbrook, said agents suspected he was hauling illegal immigrants, but he had bundles of shingles, not people, in the back of his 1972 Chevrolet.
Wolfe said his shoulder was permanently injured. He sued the government, but lost. Border agents "can get away with anything they want," he said.
From mid-1989 to mid-1991, at least seven immigrants were killed in shootings, beatings and other incidents along the border, but no agents were ever prosecuted.
Michael Andrew Elmer, 29, is believed to be the first agent ever charged with murder for killing someone while on duty.
On June 12, police say, Elmer was looking for drug couriers in a remote Arizona canyon and allegedly shot an illegal immigrant in the back, killing him.
Police say Elmer never reported the incident and talked about secretly burying the body in Mexico. A fellow agent led supervisors to the body 15 1/2 hours after the shooting. A medical examiner later testified that the dead man might have survived if he had received prompt medical care.
Immigrant advocates say the Border Patrol is out of control. In June, a Border Patrol pursuit ended in a fiery wreck outside a Temecula high school, killing four students, one adult and one immigrant. At congressional hearings this summer, immigrant advocates criticized the Border Patrol for its pursuit policies and raised concerns about violence.
Allegations of misconduct in documents released by the Border Patrol are hard to investigate because many details, including victims' names, have been deleted. But the documents provide a glimpse into assorted accusations against San Diego area agents.
Among the complaints:
On Sept. 2, 1990, a motorist in Temecula complained that an agent strip-searched her in front of other motorists and stole $100 from her. Agents denied it.
On Sept. 9, 1990, an agent argued with two women at Joey's Bar in Chula Vista and drew his gun before leaving. Later the agent said: "I don't understand what I did wrong. I was only protecting myself." The women said they were too afraid to file complaints.
On May 9, 1991, an agent in El Cajon was accused of lifting the screen off a window, poking his head inside and yelling at a woman clad only in her underwear. The agent denied that the woman was half naked and said he was merely looking for a suspected illegal immigrant.
On Jan. 18, 1991, a 15-year-old immigrant accused a border agent of fondling her after her arrest in Imperial Beach. The agent denied it, saying he was only patting her down.
Correction: US Border Patrol spokesman Steve Kean said border agents use only as much force as is necessary to apprehend illegal immigrants. Government documents say agents sometimes tackle, knock down, punch and use "pain compliance" techniques to subdue people and arrest them. Because of an error in syntax, a story in the News section of Sept. 23 editions of the Register may have left the impression that Kean was the source of the latter comments. (9/26/92)