I wrote this story for the Houston Chronicle. It was published on Aug. 25, 2006. (See original version).
After the revolution, the leader visited Houston in 1959 amid hopes he would build a democracy
Before the Bay of Pigs and the Cuban Missile Crisis, before Washington branded Fidel Castro a villain, the Cuban leader swept into Houston a conquering hero.
The Houston mayor shook his hand. Business leaders cheered. And ranchers gave him a prized quarter horse.
"There was a perception that he was going to create a democracy," said Virgil Wall Jr., a retired Houston businessman who showed Castro around during his visit in 1959. "But that impression soon changed."
Castro's fleeting trip to Houston remains a significant, though often overlooked, event that even now provides valuable insight into the Castro dynasty that has ruled Cuba for 47 years.
While in Houston, Fidel Castro, then 32, had a fiery confrontation with his brother Raul, then 27, that would influence the course of the revolution.
The brothers reportedly yelled profanities at each other for hours while staying at Houston's posh Shamrock Hotel.
"It was a screaming match," said Brian Latell, a former CIA analyst and author of the 2006 book, After Fidel: The Inside Story of Castro's Regime and Cuba's Next Leader.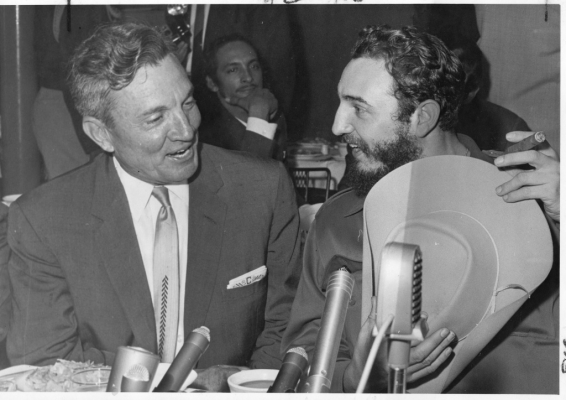 Witnesses eavesdropping outside the Castro brothers' 18th floor suite couldn't make out exactly what they were saying but think they were fighting about how the revolution ought to proceed, Latell said.
The two brothers denied having a falling-out.
"Absurd!" Raul told reporters.
"Never!" Fidel said.
To be sure, the brothers found a way to work together, going on to dominate Cuba for nearly a half century. Then last month trouble came. Fidel, now 80, ceded power to Raul, 75, then underwent emergency intestinal surgery. Some Cuba watchers called it the beginning of the end of the Castro era. But others predicted the socialist regime would endure.
'Fidel Lite'
In his first public comments since then, Raul Castro hinted Aug. 18 that he's ready for talks with Washington. But U.S. officials snubbed him, calling him "Fidel Lite" and predicting his government will be no better than Fidel's. Raul Castro's longtime reputation is that of a hard-core socialist who ordered the executions of civilians who collaborated with the enemy in the 1950s.
But Latell said he thinks Raul is more complex.
During his visit to Houston, his only trip to the United States, Raul seemed sullen and withdrawn, showing little interest in engaging the Americans.
But Fidel went out of his way to charm his Texas hosts, posing for photos and joking about how much time and money he saved by not shaving off his now famous beard.
Houston residents gave him a standing ovation when he arrived for his overnight stay April 27, 1959. Some dressed their children as rebels in his honor.
"Fidel Castro swept through Houston in glory bordering on pandemonium, with sirens failing to drown out the cheers of his admirers," the Houston Chronicle said the next day. "He kissed no babies, though he tried."
Houston businessmen talked excitedly about making a movie about the Cuban revolution with Marlon Brando starring as Fidel Castro.
Castro had just finished an 11-day swing through New York and other eastern cities. He had met with then-Vice President Richard Nixon. He was as close as he'd ever get to having peaceful diplomatic relations with the U.S., as some saw it, and didn't want to upset the Americans. At least not yet. And he was angry with Raul, who evidently wanted to step up the pace of the leftist revolution and dispatch Cuban guerrillas into other Latin American nations.
"Fidel was more cautious then," Latell said. "Raul was the intransigent, the radical. But I think they've reversed roles. It's now Fidel who's the more radical, the more intransigent, the more ideologically fixed."
And Raul Castro, he said, is more flexible, more open, than his older brother.
"We can probably make some deals with him," Latell said. "He'll probably want better relations with the United States."
Carlos Franqui, 84, a writer and poet who headed the clandestine newspaper Revolucion and Radio Rebelde during the Cuban revolution, agreed.
"If Raul had absolute power in Cuba tomorrow, he'd take Cuba the same path as China. He'd open up the economy but maintain political control," said Franqui, who broke with the socialist regime in 1968 and lives in Puerto Rico. "There wouldn't be a massive flight of migrants from Cuba. Nor would there be any bloodshed."
Jaycees in Havana
Wall, the businessman who hosted the Castro brothers in Houston, isn't as optimistic. He expects socialism to continue beyond Fidel and says, "I don't see how things will improve."
In 1959, he was president of the Jaycees in Houston. He said then-Sen. Lyndon Johnson had asked the Jaycees to invite Fidel Castro to Houston; U.S. politicians "wanted an apolitical group to deal with his visit," Wall said.
A week before Castro arrived, Wall and several other Houston businessmen journeyed to Havana to meet with the Cuban leader at the presidential palace.
Once there, they were ushered into a Cadillac limousine. Thompson machine guns were strapped to the seats, and most of the rebels "had pistols stuck in their waistbands," Wall said. "It was almost like walking into the wild, wild West with a Spanish flavor." But "the people were friendly."
Havana "couldn't have been more enjoyable. It was called the Paris of the hemisphere," he said. "The nearest thing I could compare it to now would be Vegas, but a Vegas with a lot of class."
Now 78, Wall never returned. But, he said, "I hope to live long enough to go back after the regime is gone."