I wrote this story for the Miami Herald. It was published on July 24, 1989.
When the woman patient jumped off the examining table and, half-naked, fled down the sidewalk in Coral Springs, the state of Florida figured it had better do something about the doctor from Connecticut.
Preston Gary Stern, M.D., gave up his practice in Connecticut in 1980 after patients there complained about unusual house calls, fondling at the office, nude photographs and other sexual escapades.
For nine years, Stern practiced in Broward. The state of Florida couldn't find cause to lift his license.
It is not that Connecticut didn't warn Florida. Robert Bruner, a hospital administrator in Hartford, said he did everything "except put it in neon."
Now, though, after complaints from five Broward patients, Stern is in big trouble.
The Florida Department of Professional Regulation pulled his license July 10 — on an emergency basis — after someone called the cops about the half-naked sidewalk runner.
Stern won't talk about it. His lawyer, Paul Lambert, won't either: "I do not discuss my clients' cases with the press. I present my cases in the court."
Stern is a native of the Bronx in New York. Pudgy at 46, he lives in a bluish-gray $150,000 Coral Springs house with a screened-in pool, Jacuzzi and two yapping poodles.
His practice is internal medicine. His office used to be in Margate, but a few years ago he moved to Belle Terre East, a quiet Coral Springs medical complex shaded by palm trees and bamboo.
He graduated from the Medical College of Virginia in 1969, passed the medical boards in 1970 and obtained licenses in both Florida and Connecticut. He opened his Connecticut office a few years later.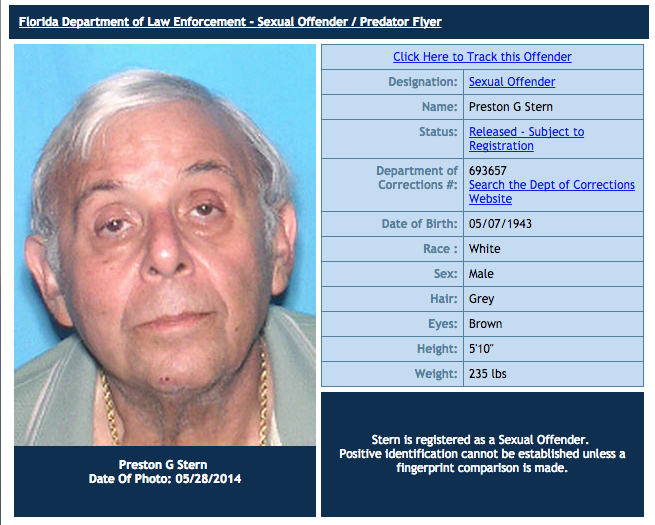 Former patients say he drove a maroon sports car, hung pictures of his wife and daughters on the wall and liked to walk around clenching an empty pipe in his teeth.
Soon the Public Health Hearing Office in Connecticut began to hear things about Stern.
An East Granby woman, Lynn Bourgeois O'Toole, was a patient from 1976 to 1979. "At one visit," she said in a sworn statement, "Dr. Stern took a miniature camera out of his pocket, and took pictures of me naked. I was still very confused. Dr. Stern played on this and told me he loved me.
"Whenever I resisted his advances, he would stroke me, reassure me and just continue with what he wanted, even when I was in tears."
A West Hartford woman told authorities she first saw Stern for a physical in 1977. She was 22. Several office visits later, the doctor told her she had a heart murmur. Concerned, she agreed to meet Stern at his home.
As they sat at the foot of Stern's bed, she said in her statement, "Dr. Stern told me about my heart murmur and showed me some pictures from a medical book. It was after this that Dr. Stern started to undress me. I kept saying, 'No.'
"Dr. Stern said, 'Do you trust me?' and I said, 'Yes.' He said, 'You know I'm not going to hurt you.' "
Afterward, she said, "I couldn't tell my parents what happened. I felt dirty, and I kept taking shower after shower as if they would wipe away what I did."
Another West Hartford woman, Susan Lenk, said she first saw Stern for treatment of stomach pains in July 1978. At one point, he invited himself to her house for coffee.
"He followed me into the kitchen and pinned me to the sink. He was very forceful. As he was kissing me, he was also undoing my bra and putting his hand in my pants."
In the ensuing weeks, she said, she and the doctor got more and more friendly. He visited her at 5:30 a.m. on his way to work. He also took pictures of her topless and later gave her copies — five-by-seven glossies.
Stern, she said, once said he didn't have a problem with their doctor-patient relationship. She quoted him: "There were no black and white zones, just a large gray one, and in that gray zone, one could do what they liked."
Under investigation, Stern let his Connecticut license expire.
Some of his patients were sorry to see him go. "Yes, he was friendlier, more personable than any doctor I've had," Donna Hubbs wrote in a letter to the state. "But that was refreshing compared to the obstetrician who didn't remember that he had delivered my son."
"Dr. Stern reminds us of the old country doctor who cared about his patients and was always there when needed," wrote patients Carolyn LaValley and Patsy Lee Ruggiero.
Another patient put it differently: Fooling around with Stern was "the price you pay" to be his patient.
A West Hartford woman, then 24, told about the time she consulted him about aching joints and he asked her to take off her panties, then began touching her.
At first she hesitated to file a formal complaint because "no one would believe me," she said. "After all, he is a doctor."
When Stern arrived in Florida in 1980, he applied for privileges at Margate General Hospital. The hospital queried an old employer, Mount Sinai Hospital in Hartford.
Bruner, the administrator, wrote Margate on Sept. 17, 1980. He said Stern quit while under investigation and that he had "serious doubt" about his competence.
Margate General, which is now HCA Northwest Regional Hospital, accepted him anyway. Administrator Warren Callaway said last week he didn't know why. He didn't work there at the time. "I can't second-guess what went on."
Kevin Dowling, the president of the Hartford County Medical Association in 1980, sent Broward hospitals letters saying Stern left Connecticut "under a great cloud."
But it wasn't until 1984 that the Connecticut Medical Examining Board revoked Stern's license. He appealed — and kept right on practicing in Broward.
The Florida Department of Professional Regulation didn't like it and went after him. But James E. Bradwella, a state hearing officer, ruled in 1987 that Florida couldn't do anything until the Connecticut case ended.
In 1988, the First District Court of Appeal decided that the hearing officer had "abused his discretion."
But Florida let Stern practice anyway while he exhausted his Connecticut appeals.
Finally, on Aug. 2, 1988, the Connecticut Supreme Court made its ruling: Connecticut couldn't legally revoke Stern's license — because it had already expired.
For Florida, that was it.
If investigators here wanted to lift his license, it would have to be for things he did here — not in Connecticut.
Investigators didn't have to look too hard.
From DPR reports made public in July:
* A woman identified only as M.G. saw Stern for a sore throat. He insisted on a breast exam, and she ran out of his office.
* A woman identified as L.S. saw Stern for a stomach problem. Later, he paid her a house call. She said he gave her some unknown, incapacitating medicine and had sex with her.
* A woman identified as K.R. saw Stern for an intestinal problem. She said he watched her dress, then grabbed her from behind as she was trying to pull on her underwear.
Those weren't the only complaints. One dated back to 1983, when one of Stern's former employees told investigators that the doctor seemed to be doing an inordinate number of pelvic exams — usually with the door locked and without a nurse present.
She said he kissed one patient's bare behind profusely after giving her an injection. The patient, she said, slapped him.
DPR said it couldn't do anything because the ex-employee wouldn't testify. She wanted the state to give her 24-hour-a-day protection against the doctor.
The troubles of DPR and the doctor came to light after the sidewalk runner streaked out of his office on April 3, screaming, "Help! Police!" She wore a towel.
When DPR recommended two weeks ago that Stern's license be revoked forever, it cited the doctor's "uncontrolled desire to engage in sexual misconduct."
Stern has until Aug. 11 to appeal the emergency suspension.
"We were stopped only because of the legal process," said Larry Gonzalez, DPR secretary.
"It is frustrating. We've taken an unfair hit on this thing."