I wrote this piece for the Dallas Morning News. It was published on July 9, 1995.
CIUDAD JUAREZ, Mexico – They're tortured, shot and stabbed. Strangled, cut up and burned. Bound, gagged and bludgeoned.
Drug gangs, by one estimate, have executed 57 rivals,
informants, bodyguards, police officers and others in this border town since 1993. Most of the killings go unsolved, investigators say. And files on many of the older cases don't exist, having been lost or removed when police chiefs are dismissed.
Community leaders are alarmed, sensing a rising tide of lawlessness.
"Ciudad Juarez has become a paradise for the criminals who work for drug traffickers," said Alberto Medrano, head of the Chihuahua Institute of Criminology, a private research organization.
The rash of slayings coincides with the town's rise as a major transit point for cocaine and marijuana entering the United States, said Phil Jordan, head of the El Paso Intelligence and Information Center, run by the Drug Enforcement Administration, FBI and other law enforcement agencies.
Relatives of some victims believe that the police don't investigate drug-related deaths thoroughly because they themselves are on the drug gangs' payroll.
The police say they resent such suggestions, but the relatives aren't convinced.
"They just cover these things up," said Rosa Maria Lardizabal, whose brother, a private investigator, was slain while investigating police involvement in drug trafficking.
The idea that entire police squads can become compromised by traffickers emerged in stunning detail last month when Mexican authorities arrested Hector Luis "El Guero" Palma, believed to head the country's fourth largest cartel.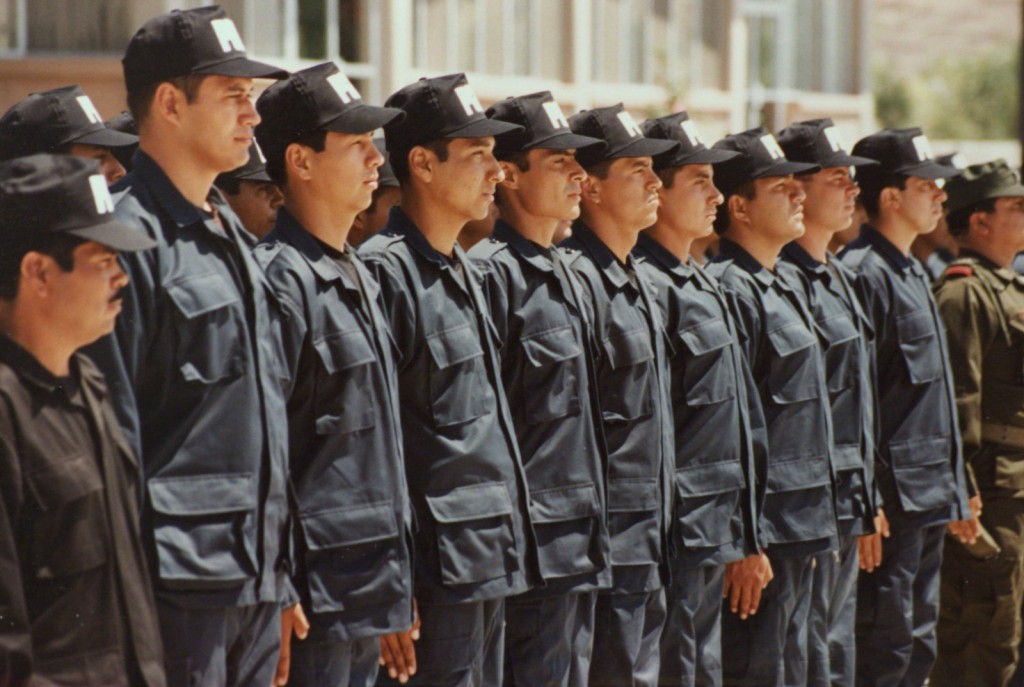 Along with the reputed trafficker, 33 federal police agents were detained in Jalisco state, accused of protecting Mr. Palma. Mexican authorities said Mr. Palma paid key police chiefs $40 million in bribes per month, using them as his personal security force.
Mr. Palma denied the accusations and told the authorities he's a rancher, not a trafficker.
Still, some people worry that bribe money has had a dangerously corrupting effect in Chihuahua state.
"The state's resources are a joke compared to what the drug traffickers have," said Javier Corral, president of Chihuahua's state Congress and a member of the National Action Party, or PAN. Price of opposition
Townspeople in Ciudad Juarez cite the Lardizabal case as a chilling example of what can happen to those who stand up to powerful drug interests.
Javier Lardizabal, 33, a police officer turned private investigator, was hired by the Chihuahua attorney general's office to investigate corruption among state judicial police in early 1993.
"If something happens to me, it has to do with this," he told his family one day in May 1993, handing over some papers.
The documents included a five-page report implicating state judicial police in drug trafficking and naming names. The report alleged that:
* Drug hit men nicknamed "The Earthquakes" had just done "a little job," machine-gunning to death someone named Rufina Herrera.
* A major Mexican trafficker, purportedly Joaquin "El Chapo" Guzman, now in custody, had paraded into Ciudad Juarez with a heavily armed police escort.
* A contact told him that a $2,000 payment to a police commander would assure safe passage of a trunk load of marijuana through Juarez.
A day after leaving behind his report, Mr. Lardizabal
disappeared. Complaints filed by the family say he was last seen with a police agent and a commander.
Rosa Maria Lardizabal said she appealed to everyone from the Chihuahua governor to then-President Carlos Salinas de Gortari but was unable to get the case investigated. She said a police supervisor told her that he couldn't look into it because he didn't have money to pay his investigators.
"I don't have any money, either," she recalled telling him. "All I have is a house."
She said the police supervisor helped her get an $8,000 loan on the house. She turned the money over the police but said they did nothing. She later lost the house because she couldn't pay the loan.
Police officials close to the case didn't return repeated phone calls.
Turning up bodies
On Nov. 16, 1994, a heavy-equipment operator named Bernardo Rubio discovered Mr. Lardizabal's body while loading sand into a truck at Lote Bravo, a chunk of desert territory south of Ciudad Juarez.
The same man had found another body there eight months earlier, prompting the medical examiner to say, "We should hire that guy."
But Mr. Rubio said he's had enough of cadavers. Six have been unearthed at Lote Bravo since 1993 and he said there's no telling how many more are there.
"Every time I go to work I think I might find another body," he said. "That's always on my mind."
The first corpse Mr. Rubio found was that of Cuauhtemoc Ortiz, former head of the national security office in Juarez. Mr. Ortiz was kidnapped, tortured and killed shortly after drug trafficker Rafael Aguilar was assassinated in Cancun in April 1993.
The Mexican news media reported that Mr. Ortiz, found with $1 in his pocket, was one of Mr. Aguilar's chief advisers.
A former police chief in Chihuahua state said the Ortiz killing was likely the work of gunmen hired by Amado Carrillo, reputed head of the Juarez cartel.
Mr. Carrillo's hit squads have been killing off Mr. Aguilar's associates to gain control of the cocaine shipments that go through the Ciudad Juarez-El Paso corridor, the police chief and other sources said.
Death commonplace
A similar turf battle is going on in Baja California, where the Tijuana and Sinaloa cartels are fighting for control of the Pacific Coast.
Victor Clark, a human rights activist who monitors police corruption in Tijuana, said the battle there has claimed more than 200 lives over the past three years.
"These deaths have become routine," he said. "The bodies turn up with bullet wounds to the head. They're dumped or found in car trunks. And their hands and feet are often tied. It's obvious when it's an execution."
In Ciudad Juarez, the bodies of suspected informants turn up with yellow bows wrapped around the head. Those are seen as a "gift," perhaps to the U.S. Drug Enforcement Administration.
The dead since 1993 include at least a dozen people with ties to the police, including Jose Refugio Ruvalcaba, 59, former state judicial commander. He and two sons, Cesar and Alberto, were tortured, killed and dumped at the Ciudad Juarez-El Paso border crossing on Nov. 27, 1994.
The widespread perception in Juarez is that Mr. Ruvalcaba was killed because he assisted U.S. law enforcement agencies. U.S. officials decline to comment on that.
U.S. officials do acknowledge that Ciudad Juarez has become a trafficking hot spot. They don't know exactly how much cocaine passes through the Ciudad Juarez-El Paso corridor, but they speak of tons, not pounds.
"It's a major corridor. That's a given," one U.S. drug agent said.
U.S. officials also believe that Mr. Carrillo has become one of Mexico's premier traffickers. And that there is violence in his territory is unavoidable, they say.
"An individual has to react to maintain a hold on power," the drug agent said. "If you don't send messages to people who are infiltrating your turf, you don't remain on top very long."
Mr. Carrillo, who could not be reached for comment, has remained out of sight since a November 1993 assassination attempt at a Mexico City restaurant.
Seizing drugs
Cocaine seizures in the Juarez area have been low. The Federal Judicial Police report seizing just 85 kilograms – or 187 pounds – since Dec. 1, 1994.
By contrast, the DEA and other law enforcement agencies in West Texas have seized 2,500 kilos – or 5,500 pounds – during the first three months of 1995.
Mexican police have been more successful against marijuana traffickers, seizing 35 tons since Dec. 1. That compares with almost 15 tons in West Texas for all of 1994.
Statistics on drug-related executions are harder to come by. Two Juarez newspapers – El Diario and El Norte – have logged 57 such killings since 1993. Mr. Medrano, who has studied criminology for 15 years, said he believes the actual number is higher. He estimates at least half the 542 homicides that occurred in Juarez since 1993 were drug-related.
Tomas Mena Ontiveros, head of the homicide unit for the state judicial police in Ciudad Juarez, disputes that. He puts the number of mafia-style hits at about 18 since 1994. He said he doesn't know how many were drug-related and doesn't investigate such motives. Anything to do with drugs is investigated by the federal police, he said.
Internal statistical reports obtained by The Dallas Morning News contradict his statements, showing that his agency uses the term "narco revenge" to classify murders. Still, the exact number remains unclear.
A list compiled by the Juarez newspapers details 17 drug-related executions in 1993, 21 in 1994 and 19 so far this year.
The latest victims: Jesus Marquez Garcia, 29, and a companion, Liliana Frayre Bustillo, 23. Gunmen drove up and sprayed them with machine-gun fire on June 29. Police say Mr. Marquez, hit with 22 9mm slugs, had ties to traffickers.
Rosa Maria Lardizabal, a mother of five, said she only wants an end to the violence. And she vows to continue demanding that her brother's death be cleared up, despite death threats she's gotten from strangers.
"This has to go on until justice is done," she said. "You learn to live with fear."
Alejandro Paez, a free-lance journalist based in Mexico City, contributed to this report.