I wrote this piece for the Dallas Morning News. It was published on March 9, 1999.
Pumped for another mission, anti-drug agent Ed Heath carefully checked his gear. Guns and ammo he had. He needed only two more essentials: bread and peanut butter. "We didn't get much money for meals back then," he recalled. But the meager rations and low pay didn't matter because "we had the sense we were doing just about the most honorable thing we could do."
Now a San Antonio consultant, Mr. Heath carried out more than 200 undercover assignments for the Drug Enforcement Administration. But six months short of mandatory retirement, he quit, joining dozens of top agents who have left the DEA in recent years.
Critics call it a critical, yet little-publicized event in DEA annals, the quiet exodus of some of the agency's most dedicated warriors, the self-proclaimed "Jurassic narcs."
Jurassics are the door-busting, take-no-prisoners types, and they're often very critical of U.S. drug policy, including the Clinton administration's decision to declare Mexico a faithful ally in the drug war.
If Mexico is so cooperative, they ask, why can't U.S. agents carry guns in Mexico? Why hasn't the Mexican government extradited any major traffickers to the United States since Matamoros cocaine boss Juan Garcia Abrego in 1996? And why does the White House accept the status quo in Mexico rather than turn up the heat?
With so many questions and few satisfying answers, a lot of the Jurassics quit.
"You risk your life out there, but sometimes you get the sense that your bosses in Washington just don't care," said Phil Jordan, former head of the El Paso Intelligence Center, jointly run by the DEA, FBI and other agencies. "So you leave."
"Priorities are different'
Some drug-trade analysts contend that the DEA has lost some of its fighting spirit with the departure of so many veterans.
"Jurassics wouldn't hesitate to charge up 15 floors of an apartment building, kick down a door and barge into a room full of people who were pointing AK-47s at them," said Roger Simpson, who helps run an Internet site called DEA Watch.
"A lot of new agents aren't like that," he said. "The priorities are different. These young kids aren't so eager to pick up a gun, climb trees and swim oceans to catch drug dealers."
Newcomers to the agency – along with some of the graying veterans – dispute that, saying the DEA and its more than 4,200 agents are as gung-ho and savvy as ever.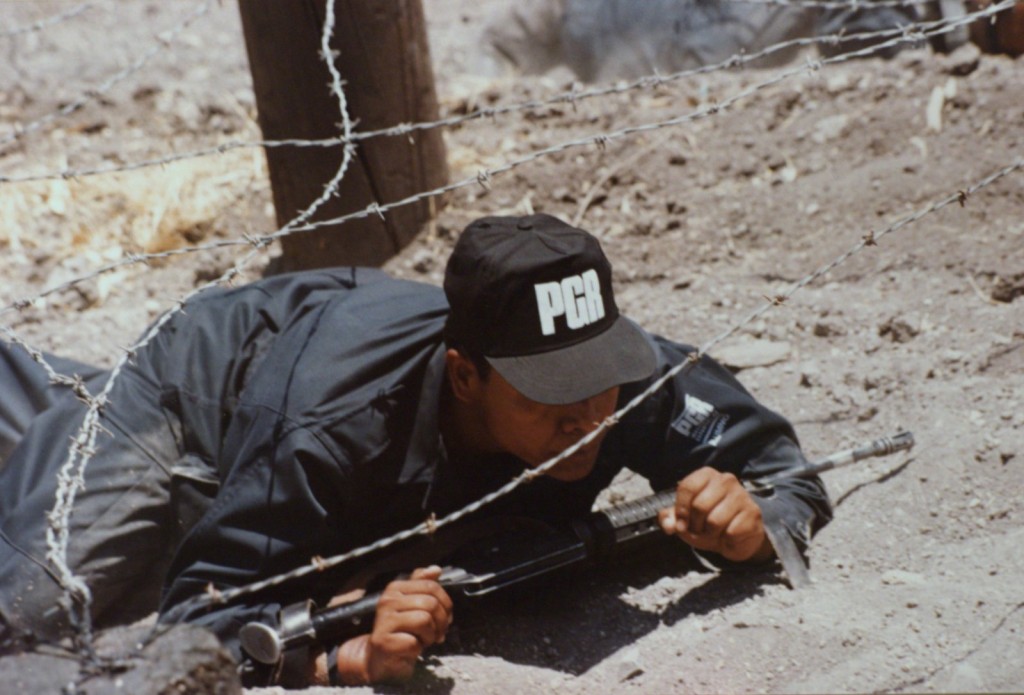 "Society has gotten more sophisticated, criminals have gotten more sophisticated and so has the DEA," said Donnie Marshall, the agency's deputy administrator and No. 2 official. "We've got good equipment, a good budget and more importantly, tremendous people. I think the kids joining DEA nowadays are brighter and smarter than ever."
What few people deny is that the DEA has seen many prized employees leave in the 1990s, and some analysts say the departures could not have come at a worse time.
Drug use among American youth is rising, a trend likely to continue as the number of teenagers in the United States grows to a historic high by the year 2005. Gang violence threatens many once-peaceful U.S. cities. And international crime syndicates in Mexico and other nations are as menacing as ever, experts say.
The DEA is less equipped to face the threat because so many veterans have left, say supporters of DEA Watch, a private, nongovernmental Internet site founded in May 1996.
Stars depart
Phill Coleman, a former Vietnam veteran who edits news, gossip and surveys on the Web site, has counted nearly 100 Jurassics who have quit, many of them well before the mandatory retirement age of 57.
A few of the departing stars include:
Billy Mockler, credited with helping to bring down Colombia's feared Medellin cartel; Celerino "Cele" Castillo, a Texas native who fought traffickers in Asia; and Don Ferrarone, an expert on drug-related corruption in Mexico and former head of the agency's Houston office.
"There is a whole long list of agents who have left. Some speak out on drug issues," Mr. Simpson said. "Others have gone off to retire and play golf."
DEA Watch encourages former agents to stay active, speaking up about what's right and wrong with the agency, and many do, sending e-mail to the Web site around the clock. And for outsiders logging on to the site -http://members.aol.com/deawatch/dea.htm – it's like glimpsing the once very private world of America's premier drug-fighting agency.
DEA Watch, which claims 700 to 1,000 hits per day, features everything from discrimination and racial complaints to the latest rumor on a drunken agent who shot someone or cheated on his wife.
The Web site often predicts DEA policy developments and key retirements weeks before any official announcements are made. It reported two days before Attorney General Janet Reno fainted Nov. 27, 1997, that her medication had been making her woozy.
It scolded a group of agents for naming their backchannel e-mail club, "Cali Contacts," a reference to the murderous Colombian cartel. And it disclosed new details of the murder of DEA Special Agent Frank Moreno, gunned down outside a Bogota nightclub in November.
DEA officials grumble about the Web site. "It's really a nonentity," said one.
Dirty laundry
Thomas Constantine, DEA administrator, blames the loss of Jurassics on normal turnover. Senior DEA officials hitting age 50 sometimes leave because if they wait until mandatory retirement "the likelihood that you're going to find a job is going to be limited," he said.
Supporters of DEA Watch aren't convinced and vow to continue airing the DEA's dirty laundry on the World Wide Web.
Some DEA loyalists are furious about the little Internet operation.
"I hope DEA Watch dies!!!" one wrote. "People are allowed to say things in public they would otherwise only say privately," said another. "I think DEA would be far better off without DEA Watch reporting our innermost secrets."
And another: "The internal politics of any law enforcement agency is none of the public's business."
That debate aside, both critics and supporters of DEA Watch find common ground recalling days long past, the days of long stakeouts and peanut butter sandwiches.
It was a time, Mr. Heath said, when agents relied more on their wits than on technology and wiretaps.
"We had to penetrate trafficking organizations the old way, by getting to know people and working your way in."
But asked if he'd ever want to go back to those days, he shook his head.
"No way. The last time I was out in the Mexican hinterland, making a drug deal, they could have easily cut me up, buried me, and nobody would have ever known what happened. Nobody."