I wrote these stories for the Orange County Register. They were published May 23, 1993.
Walk toward the alley, past the gamblers tossing down cards and cash. Walk past the grade-schoolers, skipping rope in the dirt, past the Tiny Rascal Gang members puffing Marlboros.
Climb the stairs into Apartment D, and a man with a sagging face and an eye that won't shut steps into the light.
He is Muth Phal, a survivor of Cambodia's killing fields, a former soldier who hid in the jungle after the communists took over, living off spiders, worms and snakes.
Phal, 52, barks a few works in Khmer, the language of Cambodia, and most of his 12 children scamper into a bedroom.
"I hurt," says Phal, whose face has been paralyzed since the day communist soldiers beat him with a rifle butt. "I'm never happy."
Phal is among the walking wounded in Santa Ana's Minnie Street neighborhood, home to an estimated 3,000 Cambodians.
Like many others, Phal is disabled, carrying the mental and physical scars of war. He says he needs the government's help because he is too sick to work.
A 1991 study of the Minnie Street community showed that 91 percent of the residents received some form of government assistance. That compares to about 11 percent for the rest of Orange County. Leaders of California's Cambodian community say they are hard-pressed to fault their countrymen because the refugees have been through so much.
At least 2 million Cambodians _ nearly a third of their nation's population _ died of disease, starved or were killed during the communists' rule, from 1975 to 1978.
"Everybody lost someone," says Praseuph Hou, past president of the refugee group, the Cambodian Association of America.
Those who escaped death spent years in refugee camps in Thailand.
"The fact that they do as well as they do is remarkable," says Gretchen Van Boemel, a researcher who has studied Orange County's Cambodians. "They lived through hell."
Most of Orange County's Cambodians live on or near Minnie Street. It's the largest concentration of Cambodians in the state outside Long Beach.
Refugee groups began settling Cambodians on Minnie Street in the early '80s because housing was plentiful. The isolated stretch _ bordered on one side by railroad tracks _ is lined with faded blue, beige and gold apartments.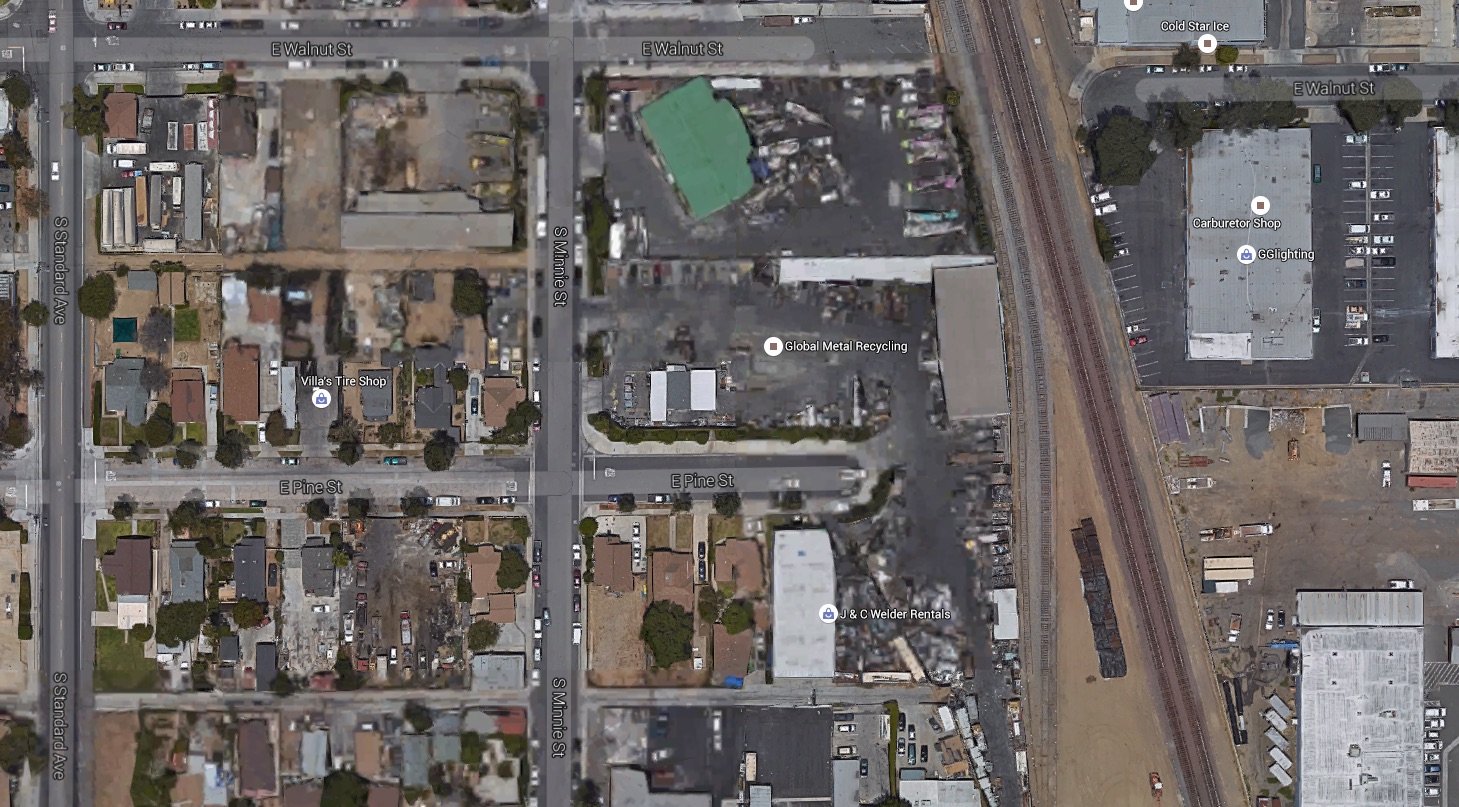 A 1987 study called it "one of the most blighted areas in Orange County."
The 1991 study, by the non-profit Neighborhood Service Center, found that most of the refugees were uneducated former peasant farmers with few job skills and no English.
"It's no wonder they ask for government help," says Mary Ann Salamida, the center's director.
Follow the sidewalk along Minnie Street as it snakes past the apartment buildings. Walk past Cambodian elders playing chess, past teen-agers kicking a plastic toy in air.
Inside a faded blue apartment, Saroeun Koy, 51, sits on her bed. The window is open, letting in a cool breeze. Her husband, Lom Lok, 40, walks in wearing a green army jacket. He has tattoos all over his body and, like many Cambodian soldiers, he considers them protective armor against bullets.
His wife receives a $620 federal disability check each month. She says she relies on Supplemental Security Income because she can't work, gets headaches and can't use her arm.
She touches the scar on her arm and begins to cry. She recalls the day communist soldiers killed her first husband and her family.
"My sister was pregnant. They killed her with a bayonet and put her on an ox cart with the rest of the bodies.
"They made me take off my clothes. `I want to keep on my underwear,' I told them. Then they made me raise my hands and close my eyes. I wanted to know if they were going to kill me with a gun or a bayonet or an ax. I opened my eyes. I saw a long knife and turned away, but they cut me. I fell down and pretended that I died right away."
Santa Smith, a mental-health worker with the Orange County Health Care Agency, says many refugees suffer from post-traumatic stress. "Probably every family has depression of some kind."
Refugees have trouble coping with daily life out of fear, she says.
"These people come from very, very rural areas. Some even came from the jungle. They had never seen a street, a car. They get scared. Scared to go out on the freeway. Scared to fill out a job application. They feel like their lives are stuck.
Look over the short, squat fences. They're topped with sharp, black wrought-iron spikes. On the other side, there's an old Cambodian woman yanking weeds from a patch of dirt thick with onions and garlic.
Through the open gate and up the stairs, a man sits on the floor, squirting eucalyptus oil on his wife's back.
Caam Eng, 61, drags the edge of a Cambodian coin across his wife's skin until it leaves purple streaks. Yan On quietly endures the painful treatment.
Later Eng lights a candle on her forehead and covers it with a tiny glass. The flame goes out and the glass sticks to her skin like a suction cup. His wife says the folk remedy sucks out "the bad winds" that give her headaches.
Like many refugees, she doesn't describe her ailments in Western terms. She has no concept of flus and colds. She says she feels sick because the hot and cold winds in her body are out of balance.
The neighborhood kids chase each other on the sidewalk as a slightly built man on a child's bike weaves his way home.
Ya Karya, 41, is a part-time janitor and says he's not really interested in finding a better job. Why make more money, he says, if the government then cuts off his family's welfare payments? He'd lose $1,200 a month, plus state health-insurance benefits.
He says he can't afford that. His wife, Abdoloh, has diabetes, asthma and high blood pressure. And she has a disability Cambodians simply call "thinking too much" _ dwelling on the past, worrying about the future.
"I have no choice," Karya says.
Many Cambodians are legitimately disabled. Others are healthy, but claim war-related trauma so they can cash in on federal benefits, say state officials investigating fraud among Cambodian immigrants in Southern California.
The author of the 1991 study of the Minnie Street neighborhood estimates that a third of the immigrants living there were defrauding the government. Social Security officials who run the country's disability program, however, have never stepped in to find out who really needs help and who is faking.
"It hurts everybody," says David Chhen Poeung, a Cambodian refugee and a county health worker. "It hurts the community." Peek into some of the apartments on the side streets off Minnie and watch the cards and money fall.
Some Cambodian gamblers spend their afternoons _ and their government checks _ playing cards.
Men and women sit on the floor in a circle, stashing coins and bills under the rug. Stakes sometimes run into the thousands of dollars.
"When you win, you win a lot. When you lose, you lose a lot," says one regular, a skinny tattooed man who glances around nervously and refuses to give his name.
Because of the language barrier, police don't know much about Cambodian gambling. "We've come across some games," Santa Ana police Lt. Robert Helton says. "Some are very exotic. We can't figure what's going on."
Journey into back yards and alleys, get off the street, look at the faces. They're faces of many colors: Cambodian boys munching on Flamin' Hot Crunchy Cheetos. Hispanic children throwing a basketball through a homemade hoop. Buddhist monks chanting prayers while the faithful bring offerings: chicken with lemon grass and grilled catfish.
Abdul "Champ" Rahman, 39, a neighborhood vendor, has learned a smattering of Vietnamese, Spanish, English, Thai and Chinese to keep his customers happy.
"You can't be shy," he says, stopping to sell a bag of snowpeas.
His white truck is at curbside, packed with Thai eggplants, yams, papayas and chili peppers. He is from Cambodia and says he's proud to be off the government rolls.
"I like to be my own boss," he says. "If I feel lazy, I can shut the door and sleep. I don't want the government to help me. The American government helped me already by letting me come here."
Many refugees who still collect disability checks hesitate to talk about their reliance on the government. They learned to distrust authorities while living under the Khmer Rouge. Many turn to middlemen, who _ for a price _ help sign them up for government aid.
The refugees would rather talk about Cambodians who move to better neighborhoods, go to college, start their own businesses. They all know about Ted Ngoy, the former Cambodian Army major who arrived in 1976. He worked as a janitor and gas-station attendant, saved his money and bought Christy's Doughnuts. Ngoy turned the store into a chain and himself into a millionaire.
But getting off Minnie Street, tasting the American dream, isn't easy, says Chea Lim, youth coordinator at the Cambodian Family non-profit center.
He teaches young Cambodians their native Khmer and traditional dances at the center in a business park along the railroad tracks. His goal: to keep the next generation off the streets and out of gangs.
"They're searching for their identity," he says. "They're not sure if they're Americans or Cambodians."
"I don't think I'll ever fit in," says Lim's sister, Phalen, 20. "Even though I dress like an American, and talk like an American, I feel like I'm more Cambodian than American."
Lean against a tree at Grant and Minnie streets and watch the gang members drive up in Mazdas and Toyotas.
A girl, known as Li'l One, barely 16, says she joined the Tiny Rascal Gang two months ago. She lifts the hair off her neck to show a fresh tattoo, "TRG," still red around the edges. She's sitting on the hood of a blue Toyota. Another Lady Rascal, as the girl gang members call themselves, plays with a white rabbit. "Our mascot," the second girl jokes.
Sathya Prum, 21, says he joined the gang eight years ago after Hispanic gang members beat him up. "I can protect myself now. I have a gang, too. They shoot, I shoot, too," he says. "We don't really want to join the gang, but we have no choice. You've got to fight fire with fire. They were making fun of us because of who we are."
Night has fallen. A dark sedan rolls up to the curb. Two Tiny Rascal Gang members get out. They're in trouble, so they've come home to Minnie Street.
It's a place they can't wait to leave, but it keeps drawing them back.
One of the teen-agers is tall, dressed in baggy shorts, a jacket and baseball cap. The other wears a blue, short-sleeved shirt over a white T-shirt.
As their friends gather around, they crouch on a patch of dirt and tell their story. They had just come from Long Beach, where rival Hispanics shot at them with a .22-caliber rifle. The shorter teen pulled down his pants to show them his wound. The tall one _ Sout Nay, 17 _ was also hit. He shrugs it off.
"It's nothing," he says.
The teens talk about cleaning up their wounds, taking the bullet fragments out themselves. They talk about retaliating. Then they pile back into the car and drive off.
About three hours later, Nay is killed in a car crash in Pomona. Police say the driver lost control. Nay, riding in the back seat, was ejected. Police found marijuana in his system.
Nay's family mourns the teen-ager's death during a three-day vigil.
His six brothers and sisters crowd into the family's living room, playing a video of the funeral over and over, watching as their mother cries over the teen's body, clad in a dark suit. Friends bring steamed rice and soup, but the teen's parents are too sad to eat.
Like many refugees, the family had come to Minnie Street with dreams of a better life. Nay, the oldest child, wanted to be an FBI agent. "All the teachers in school said he was a good boy," says his father, Sarim Doung, 49.
Four years ago, the family moved to Pomona. Doung says he wanted to get his son away from "bad influences" in the old neighborhood.
But Nay couldn't stay away from Minnie Street.
"I tried," his father says. "I was strict. But he paid more attention to his friends than to me. He liked going out with his friends.
"Now he's going to see God in the sky."
Story two
When Sophal Nam joined the Tiny Rascal Gang, he brought unspeakable shame to his family. And when he landed in jail, his parents declared, "Leave him there." He decided there was only one way he could redeem himself: by becoming a monk.
"We thought he was kidding," said his sister, Sinet
Nam, 18. "I'm like, no, this can't be my brother. He'll go nuts."
Now Nam sits on the floor and chants Buddhist prayers instead of hanging out with his gang-member pals.
"My thinking is not about gangs anymore," said Nam, cloaked in a saffron robe. "It's all about chanting and being a monk."
Nam, 19, is a refugee from Cambodia. He lives in Santa Ana's Minnie Street neighborhood, home to at least 3,000 Cambodian refugees, the largest concentration in Orange County.
A friend from the gang, Veasna Lach, a.k.a. Smiley, also went from Rascal to monk.
"I'm doing it to make my parents happy," said Lach, 21.
But for former gang members used to living life on their own terms, adjusting to the strict regimen of a Buddhist monk isn't easy.
They must rise at 4 a.m. every day to pray. They must memorize and practice ritual chants. They can't eat anything after noon.
They aren't allowed to dance, tell jokes or swear. They can't harm any living thing, even the smallest bug. They are forbidden to go to parties. And they can't have romantic relationships with women.
Despite the rules, Nam and Lach weathered their apprentice stage and in an initiation ceremony earlier this month, became
full-fledged monks.
Lach, Nam and a third apprentice monk alternately knelt, stood and chanted for more than an hour during the ceremony at a Los Angeles temple. Then a dozen senior monks circled them, a way of saying, "You're one of us."
"I almost fainted sitting like that," Lach said afterward. "It hurt."
Nam's mother, Heng Pak Nam, said she was so thankful that her son became a monk that she planned to make a small sacrifice _ by shaving her head.
Cambodian Buddhists believe that fate depends on the sacrifices they make and the good or bad deeds they commit. But bad deeds never can be erased. And for those whose sins are extreme, their only hope is to carry out good deeds that are equally extreme.
Becoming a monk scores big points on the redemption scale. Not only are monks religious, they are respected.
"It's a very gentle culture that pays very high respect to spiritual authority," said Rifka Hirsh, head of Cambodian Family Inc., a social-services center in Santa Ana.
The family also is important, she said. But if a family member is in a gang, it taints the entire family's reputation.
Lach and Nam live with six other monks in a temple _ two charcoal blue, one-story apartments in Santa Ana. Several Cambodian nuns, elderly women with shaven heads, also live there.
The young monks lead a peaceful existence. They chant for an hour or so every day, read books, watch television and stroll outside to chat with neighbors. Most of the men also smoke cigarettes, which is allowed under the strict monk code.
The faithful stop by every day. They bring offerings _ steamed rice, spicy soup, even pizza.
But not everyone accepts the former gang members.
"Some talk to us like we're still homeboys," Lach said. "No respect. There's always a phone call. They go, `How come you let those gangsters be monks?' "
The Santa Ana temple's senior monk _ the ex-Rascals call him `The Main One' _ said he was more than willing to give the former Rascals a chance.
"I want to help people quit the gang," the Rev. Soyudh Jenlao said. "The past is the past."
The past is something Lach wants to forget. The other day, he told a former friend in the gang that he can't stand outside the temple and talk to him anymore.
It's just not proper.
Lach also is paying a laser surgeon $2,500 to burn off his gang tattoos, a painful process that leaves terrible scars.
"With tattoos, you can't find a job. They know you're a gangster, a convict."
Like most of the Cambodians in the neighborhood, Lach and his family fled Cambodia after the Khmer Rouge guerrillas took over and began killing anyone who posed a threat _ government officials, soldiers, teachers, intellectuals and others.
An estimated 2 million Cambodians starved, died of disease or were executed while the communists were in power 1975-1978.
Lach, whose brother was among those killed, said that when his family reached Minnie Street in 1984, he didn't think much about the shootings among rival gangs. He remembers thinking, "I lived through a real war. This is nothing."
At the time, the Tiny Rascal Gang had just been formed. Today, police say, it has 40-80 members in Orange County, including hard-core members, wanna-be's and associates. Members claim 2,000 associates nationwide.
The gang is mostly Asian but ethnically mixed. Lach said his decision to join in 1986 was a natural step.
"You grow up with the same people. They're your friends."
Lach wound up in jail in June 1991 after Santa Ana police arrested him on charges of assault with a firearm.
Lach told police that he pulled a .357 Magnum on a man outside a party in Santa Ana on May 18, 1991. He said the man had threatened a friend with a gun months earlier. So after Lach saw him, he confronted him and shot at him as he drove away in a truck.
As he fired, other gang members grabbed their guns and joined in.
"The bullets were flying," Lach said. "But I wasn't ready to die yet."
He got a two-year prison term and served 16 months. He said he regrets running with the Rascals.
"When you think back, it isn't worth it."
He became a monk four months after getting out of jail. He didn't think he would last a month. But as he learned more about Buddhism, he started liking it.
"It's not fun like when I'm out on the street gang-banging and stuff. Here in the temple, fun is chanting and getting to know more about our religion. I like it. When you chant prayers, you become happy inside."
Nam, nicknamed Chris, followed a similar path from the killing fields of Cambodia to the mean streets of Santa Ana.
He said he joined the Rascals because he "wanted to fit in." He didn't spend much time at home while in the gang, his sister said.
"He would just come home to sleep and eat. You couldn't go in the room if he was in the room. He'd blast the radio and you couldn't study.
"You know what really surprised me is when he started carrying a gun. I was telling him, `It's not right to do that.' He was all like, `Who are you to be telling me what to do. I don't even listen to Mom and Dad. You think I'm going to listen to you?' "
In April 1992, Nam was arrested for purse snatching in Westminster, court records show. He said he needed money because he "was into marijuana."
Nam pleaded guilty to a felony charge and got a six-month jail sentence, records show. While in jail, he decided to leave the gang. He sat in his cell, set fire to wads of toilet and tried to burn off the Rascals tattoo on his arm. That left scars. The tattoo is still there.
But Nam was determined to make a fresh start _ as a monk _ and the gang didn't stand in his way.
"Whatever makes you happy," his Rascal friends told him.
Nam's sister said she couldn't believe Nam wanted to be a monk _ a celibate, at that _ because he was "a major flirt" in high school. She realized he was serious when he began dumping his prized possessions.
"He threw all his clothes away, pictures of girls. He threw everything away," she said. "He's trying hard. He's really humble now. Not like before."
Nam said he has learned to respect his elders. And more and more people look up to him now that he's a monk.
"People will do anything for us. They cook us food and they don't even eat first. They serve us first."
Still, neither he nor Lach plan to be monks forever.
Lach said he will stick it out one or two more years, maybe more. Then he'll leave the temple and try to build a normal life outside the gang.
"I want to get my life settled," he said. "No more gang-banging."
Sidebar: Most Cambodian refugees were victims of Khmer Rouge atrocities before fleeing their country and eventually settling here.
Vilay Poeung escaped the killing fields, but nightmares of soldiers dressed in black invade her dreams every night.
While the Chinese-backed Khmer Rouge ruled Cambodia, Poeung's young son, mother, father and sister starved to death _ and she was helpless to stop it.
"I went to the Khmer Rouge for a little piece of sugar. I gave it to my mother. But as soon as it was in her throat, she died.
"I was holding her hand."
Poeung fled to Thailand in 1980 and has settled in Orange, where she started a new family. But she said she can't put the past out of her mind.
"Memories stay," she said. "They never go away."
For Cambodian refugees, the past has been cruel. The communist Khmer Rouge ruled their country from 1975 to 1978. Vietnamese soldiers forced the Khmer Rouge out and put a new government into power in January 1979. Thousands of Cambodians fled to Thailand.
Nearly 140,000 were settled in the United States, most of them from 1981 to 1985. Half came to Long Beach, Santa Ana and other Southern California cities. They arrived with refugee status, making them eligible for humanitarian aid.
Even with help, experts say it will take them at least another generation to recover.
"They're still living the trauma," said Patricia Rozee, an assistant professor of psychology at California State University, Long Beach. "It's not being sorted out."
She and Gretchen Van Boemel, an eye specialist at the Doheny Eye Institute in Long Beach, have researched psychosomatic blindness among Cambodian women. They said many of the refugees they studied suffered atrocities before losing their sight.
Some women were raped as many as 30 times or they were tortured by the communist soldiers.
Until the 1984 movie "The Killing Fields," most Americans had little idea of what Cambodians went through. The movie, based on a true story, is about an American journalist and his Cambodian assistant, who stumbles across a bone-littered field as he is fleeing to Thailand.
Refugees say the movie, horrifying to many Americans, is mild compared to the reality.
"My friend and I went to that movie. We laughed the whole time," said Song Lach, 25, of Santa Ana.
In their quest to create an agrarian utopia, Khmer Rouge soldiers killed anyone who they saw as a threat: doctors, teachers, artists and religious leaders.
Even toddlers weren't safe. Soldiers smacked them against trees, then threw them into holes, said Boline Ek, a Cambodian refugee living in Westminster.
"Sometimes they wouldn't die right away," she said. "They'd cry, `Help me, help me' all night until they died."