I wrote this piece at the end of my assignment in Havana. It was published on Feb. 6, 2005.
Exactly 38 miles from home, the Jeep Cherokee that I bought in Irving coughed, sputtered and quit.
With the Morning News' reassigning me, I had told my editors I wanted to take one last road trip. Along the way, I'd write about what it's been like to be one of the only American journalists to work in Cuba.
At least that was the plan.For now, I was on the shoulder of the desolate Autopista Nacional (National Highway), 177 miles from my destination, trying to get my Jeep going.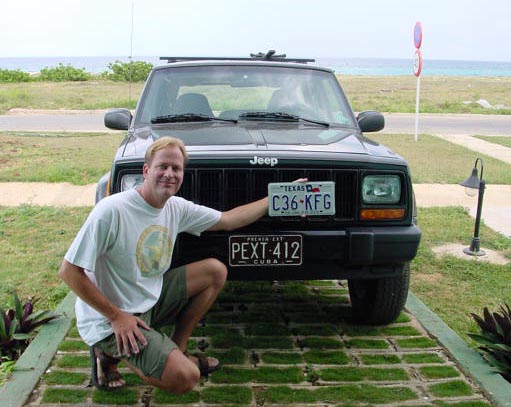 Thankfully, the SUV soon started and I continued my journey to Trinidad, a virtual open-air museum of colonial architecture on the southern coast.
I first traveled to Cuba in 1994 while on assignment for the Morning News. I returned 28 times in the years that followed, and in the fall of 2000 Cuban officials announced that the Morning News, the Chicago Tribune and the Fort Lauderdale Sun-Sentinel would be allowed to open bureaus on the island.
We joined CNN and The Associated Press as the only American news organizations to operate in Cuba since the early 1960s.
I settled in Tarará, a beach community about 11 miles east of Havana. On my first or second day in the country, I woke up wearing my BVDs, moseyed over to the sliding glass door, pulled aside the curtains and saw a man with binoculars looking straight back at me.
Welcome to Cuba, I thought.
I never found out whether the guy was a security guard, peeping Tom or not-so-secret spy. But one thing was clear: This was no ordinary island. And over the next four years, I'd learn much more about the country, a place that is both strange and special, stirring and sad.
Signs of the times
I set out for Trinidad on a bright, clear Thursday morning. As usual, people and bicycles outnumbered cars on the road, and hitchhikers gathered at strategic spots. Some asked for rides by sticking out their arms and wiggling their hands up and down. Others pointed their index fingers to the sky, meaning they were going a long ways, not just to the next exit.
The hitchhikers included students, couples with young children, soldiers, hotel workers and even an airline pilot.
Seeing them, I couldn't help but think about Cubans' desperate straits.
Most earn less than $20 a month and have about as much chance of owning a car as buying the space shuttle.
Air conditioners, video cameras and microwave ovens are huge luxuries. Dishwashers are nonexistent. VCRs are in demand, but outrageously overpriced. State-run stores sell $80 models for $275, more than a year's salary for most Cubans.
Chinese-made Panda color TVs go for $154. The government issues 67-month loans so people can afford those; Americans pay off their cars in less time than that.
The fact is, ordinary Cubans are hard-pressed to buy a cold Coke on the hottest day of the year. Just putting food on the table is a challenge for most.
That doesn't mean Cubans suddenly endorse capitalism. But you don't hear many of them knocking materialism, either.
"Money doesn't buy happiness," one Cuban friend explained, "but it certainly calms the nerves."
In August 2002, I wrote about the plight of Elsa Chon, a kindly Cuban retiree who scraped by on a monthly pension of $3.81.
Readers sent me a few hundred dollars for Elsa. When I showed up with the money, Elsa was so shocked she couldn't speak.
But after she recovered, she quickly offered me what little coffee she had.
Cubans are generous despite poverty and hardship.
A few years ago, a photographer and I went hiking in the hills of eastern Cuba and came upon a campesino. Within minutes, he was talking about killing a pig and roasting it to celebrate our arrival. I managed to stop him from doing that, but he did throttle a poor duck. His wife plucked it and cooked it in coconut oil.
I got over my sympathy for the bird and gave it a try. It was delicious.
I tried to pay the farmer afterward, but he would have nothing of it and waved me off.
Where egos are grounded
Even Cubans who are famous are unusually down-to-earth.
I've seen baseball players stop on the streets and patiently sign autographs for fans, who pepper them with advice on how they can improve their games.
And when I've needed to interview an Olympic medalist, salsa music star or soap opera diva, it's been easy: I just go to their homes and knock on the front door.
These celebrities earn more money than the rest and some even drive government-issued cars. But they don't go around town with bodyguards or public relations agents. They mix with everyone else.
Jorge Fis, Cuba's former national judo champion, hitchhikes to work from his neighborhood east of Havana.
I pick him up whenever I see him. He's huge and barely fits in the front seat of my Jeep.
I met Jorge at a nightclub where he worked as a bouncer. One day he complained that customers had gotten rowdier because clubs had introduced something new: all-you-can-drink specials.
"People come in and go crazy drinking," he told me. "Then they start fighting, and I have to throw them out."
I don't doubt what Jorge says, but I'm convinced Cuba is the safest country in Latin America.
I've wandered through Havana's roughest neighborhoods at 3 or 4 a.m. and have never been touched.
Petty theft has climbed in recent years as more crooks go after tourists' wallets, jewelry and cameras. But gangs, kidnappings and drive-by shootings are unheard of.
The government doesn't publish crime statistics, but I get the sense murders are rare, too.
An American friend once explained that to me, saying, "Well, it is a police state."
Indeed, there are police on practically every corner in some parts of Havana. Young Cubans, especially young, unemployed blacks, complain of police harassment. But most people are so used to the heavy police presence, they see it as normal.
Even when police stop and search vehicles without cause, few Cubans complain.
Human-rights activists occasionally report cases of police abuse, but the officers I've seen have been polite and professional, standing quietly while motorists insist they weren't speeding.
A traffic cop on a 750cc Guzzi motorcycle once stopped me for failing to signal when changing lanes. I admitted that, yeah, I hadn't signaled and braced for the fine.
I was stunned when it was only 2 Cuban pesos – less than 8 cents.
Another time an officer stopped me for speeding. The limit was 50 kilometers per hour (31 mph). I was going faster than that, but I wondered how the officer knew since he didn't have a radar gun.
"I know from experience," the officer said.
I started to argue. He must have figured I wasn't worth his time and let me go. Grateful, I offered him $1. He wouldn't take it and walked away.
Castro loyalists say Cuba is free of serious government corruption. And while much remains unknown about the circles of power on the island, a Portugal diplomat told me he finds Cuban elites refreshingly innocent.
One night, he said, he and two of Fidel Castro's middle-aged sons went to the Habana Café nightclub to hear salsa star Issac Delgado. The doorman told them the club was full, and they turned to leave.
Suddenly, someone yelled, "Hey, it's the Portuguese ambassador!" and the doorman immediately let them in.
Incredibly, no one recognized the Castro sons. Nor did they try to use their father's name to get a table.
I can't imagine that happening anywhere else in Latin America.
Hate crimes are another rarity in Cuba, one of the most intermixed nations in the world.
There is discrimination, however. I've heard white parents urging their children not to date anyone with dark skin or kinky hair – "bad hair" as they call it.
But I don't sense any deep racial tensions.
As I continue the drive to Trinidad, I jot down a few more thoughts – don't try this at home. Then the Jeep dies again.
I steer down a hill and coast into a gas station called "The Little Rabbit Basic Unit."
I guess no one was thinking about marketing when they came up with that name. But socialist politics – and not the profit motive – seem to make the Cuban government tick.
Highway billboards that I passed illustrated the point.
"United We Will Fight and Conquer," said one. "Justice Is On Our Side," said another.
Most of the Cubans I know care more about feeding their families than politics.
Wages are so low, Cubans seem to get by on air alone.
They're unbelievably ingenious. In 2002, I wrote about housewives who turned potatoes into mayonnaise, peas into sweet desserts and green plantains into casseroles.
Ana del Rosario Perez said she once needed to feed 18 people, but had just two eggs. So she got creative, adding puffed wheat, garlic, peppers, onions and tomato paste. The result: enough scrambled eggs for a beach party.
Cubans waste almost nothing, I've learned. They make dolls from shampoo bottles and picture frames from old CD cases.
Expert mechanics, they fit 1957 Chevys with Russian motors and fabricate homemade crankshafts for battered, old Harley-Davidson motorcycles.
Little private enterprise is allowed, and authorities tax even the humblest of entrepreneurs, including old men who refill disposable cigarette lighters from makeshift sidewalk stands. So many Cubans pilfer what they can from the workplace, making off with everything from slices of ham to garden hoses and window panes.
That Chapman guy
Cuban officials don't like it when I write about these things. When they feel particularly offended, they call me to the Foreign Ministry to explain why a story was unfair or inaccurate.
That doesn't happen a lot, though.
Contrary to what people must imagine, Cuban officials don't pressure me to write pro-government stories. They don't censor my work, and they don't limit my travel.
But interviews with key officials are often difficult to obtain, and I once went nearly a year without getting any of the interviews I had requested.
Readers ask if Cuban agents follow me around. I don't think they do. But a stranger did approach one day saying "Hey, Chapman" and wanting to talk politics.
I figured he saw Chapman in some Cuban intelligence file. It's my middle name. Then again, maybe I'm just paranoid.
I assume my phone calls and Internet use are monitored, but I have no proof.
U.S. officials believe Cuban intelligence agents are capable of listening to a person's conversations through their cellphones even when the phone isn't being used.
I once had lunch with a senior Cuban official who turned off his phone and took the battery out so American agents couldn't listen in.
This spy-vs.-spy stuff goes on all the time.
An American official who worked at the U.S. diplomatic post in Havana told me he found what appeared to be an extra fiber-optic cable leading out of his home. He figured it was connected to a spy camera.
I asked how he handled that, and he said he sometimes stripped naked, jumped up and down on the bed, and screamed obscenities at whoever might be watching him.
I told him I didn't believe him, but he said he wasn't kidding.
I don't think Cuban agents need electronic gear to monitor what I do because they already can count on the eyes and ears of practically the entire populace.
In April 2003, I went to the port of Mariel to interview Cubans who might have witnessed the end of a hostage crisis. Several men had hijacked a ferry with tourists aboard and tried to reach Florida, but they ran out of gas.
Cuban authorities, including Fidel Castro himself, persuaded the assailants to turn themselves in; three were quickly tried, convicted and executed by firing squad.
I wanted to talk to neighbors to find out what they had seen. Driving into Mariel, I saw a schoolgirl grab a pen and write something down. I can't know for sure, but I think she must have reported me because while I was interviewing her neighbors, a patrol car pulled up and officers asked me to climb inside.
They took me to a police station, questioned me for a while and let me go.
None of the neighbors would have anything to do with me after that. They were afraid.
Despite these episodes and other frustrations, I can't complain. Cuban authorities have always treated me with respect.
It could be worse
Cuban journalists who criticize their government are much worse off. Authorities in March 2003 arrested more than a dozen of them, accused them of working for the American government and sent them to prison.
Officials say such harsh measures are needed to fend off U.S. aggressions. The American ban on trade with Cuba is the toughest, longest-lasting embargo imposed on any nation in modern history. And Castro loyalists blame it for virtually all their economic troubles.
I wonder what would happen if the embargo were lifted and Cubans no longer had a scapegoat.
Of course, the bigger question is what will happen once Mr. Castro dies or is no longer in charge. If I had to go out on a limb, I'd go against conventional wisdom and say that the socialist government will endure, at least for now.
There's nothing to replace it. The government controls almost every aspect of people's lives. And individuals have very little power to change it.
In the fast lane
I finally reached Trinidad and checked into a hotel. It was a charming place, and I wanted to stick around. But I was worried about getting stranded and decided to make the four-hour trip home the next morning.
It turned into an 11-hour odyssey. Dirty gas, it turned out, had clogged my SUV's fuel filter. So the Jeep limped slowly homeward as bicycles powered by lawnmower engines passed me by.
It was a special Cuban moment. And the binoculars guy missed it all.
I think.